Information for District Offices
This page is designed to provide district/network leaders with all the information they need about Pathway. If you have any questions (or ideas!) please email us [email protected] or text us at 1-916-999-9027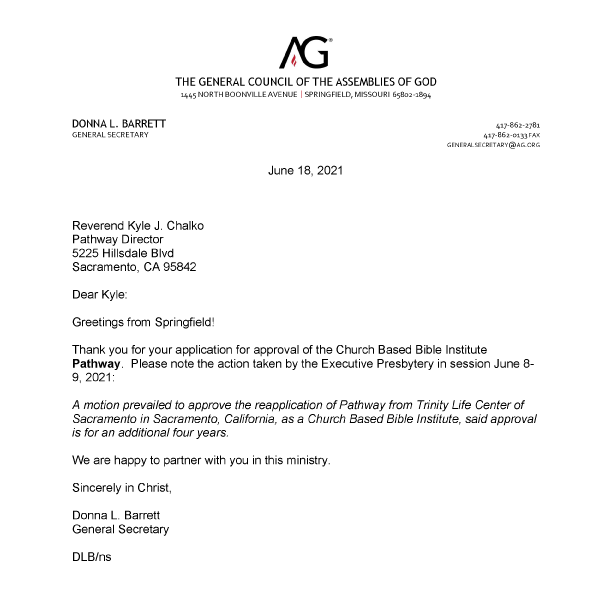 Director's Note on Internship Exemptions
Frequently Asked Questions
Does my district/network need an MOU with Pathway?
Nope. Feel free to inform Students at your leisure. If you believe an MOU is something your district would like to pursue, please contact us, at [email protected]
Is Pathway Compatible with my DSOM?
Yes! Some DSOM directors even recommend Pathway to their students who need to complete a course that is not currently being offered by the DSOM or for students who have gotten out of sync with their DSOM schedule. In this way, Pathway is a great gap-filler for your students.
I have a student who has a special need. Are there scholarships available?
We are ministry minded and try to always put the student first. Please let us know the need and we can partner with you to help get this student started studying in ministry. Just send us an email at [email protected] to discuss your need.
Does Pathway work in every district/network?
We are approved by the Assemblies of God Executive Presbytery as one of the many approved educational paths available for use by students from any District in the United States, even if they are temporarily living abroad (such as a missionary associate) while studying.

Does Pathway work for students in other countries.
For educational purposes, Pathway works for anyone, anywhere in the world. For education toward credentialing purposes, the approval granted by The General Council of the Assemblies of God (USA) only applies to US residents or missionaries from the US living abroad who will apply for a USA-AG credential.
What about "Life Experience" exemptions?
Pathway does not handle or manage Life Experience exemptions. Please contact your District or Network office for more information.

Do you have any promotional materials we can use?
Yes! We have a digital promo kit designed for this exact reason. To request this digital promo kit, fill out the application form here.